Like you, we love dogs, which is why every dog which comes to us is treated with care and as an individual with specific needs.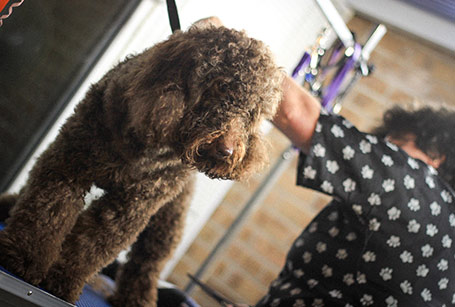 You may have experience with other dog groomers who pack-in their bookings and dogs are relegated to cages once their groom is finished to await collection. In an unfamiliar environment with other dogs, this could easily be distressing to the dogs, so at Sue's Paws, we don't operate like this.
Your dog is treated with one-to-one attention to their individual needs and the best, considered advice is always offered to owners on caring for thier dogs' coat once it leaves us.
Terms of using our service
Cancellation within 24hrs of your appointment or not showing up to your appointment is subject to a charge of £30.
Dogs with fleas will be charged an additional £5.
Matted or aggressive dogs will incur an additional charge at our discretion depending on the condition of the dog. Charges range from £5-20 in addition to the service price.
What you can expect:
Always a friendly, no-fuss service
Impartial advice on coat care
Extra patience for difficult or nervous dogs
De-matting, wash, dry and fur treatments available
We offer many kinds of dog groom from a full wash, cut and finish to a quick nail clipping or some advice.
Pricing
It's not possible to give a set list of prices as each dog requires different products, and time spent with us. The best way to get a quote is to give us a call on 07966 584 581 and let us know the breed, size and what you'd like doing.
Customer Feedback
These are some snippets from my customers' wonderful Facebook reviews.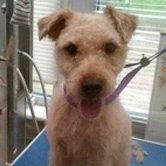 Billy
"Would highly recommend. Sue obviously loves dogs, is very knowledgeable & a nice friendly lady. Thanks Sue. "

- Christine, Nottingham
"Sue has done a fantastic job of our little man! By far the best he's been groomed ever! He was a little scaredy cat to begin with but Sue was able to calm him down and work with him to produce an amazing cut! I highly recommend. You can never stop grooming now Sue as you've got us for life."

- Callum, Nottingham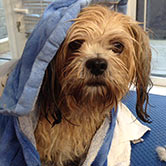 Milo
"Sue does a great job making Milo look so lovely. She's very knowledgeable and friendly, always willing to give help and advice. Would definitely recommend Sue."

- Sharon, Nottingham
"Sue is very caring and patient. Freddie our cockapoo, is not the easiest dog to groom following a bad experience as a pup, but Sue takes as much time as is needed to do a really good job and he looks and smells lovely after every visit."

- Kath, Nottingham
"You can tell when you meet Sue she's a true animal lover. She really knows what she's doing, and although Jasper isn't keen on grooming, he always looks beautiful and love his little bow on his collar which is a lovely finishing touch. Can't recommend Sue enough!"

- Patricia, Nottingham