A different approach to dog grooming...
Sue is an experienced dog owner and groomer in Nottingham who's putting animal care and service first.
Many dog owners report a less-than-satisfactory service from their current dog groomer or chain pet shop. Sue looks to offer something missing from the business of dog grooming; personal service, informed advice from experience, and an authentic care for your dog that's clear to see. Sue aims to provide an experience that both you and your dog will love, and a cut to your requirements.
A mother of four children, as well as being a long-time animal lover and dog owner of 30 years, Sue holds a degree in Science and a City & Guilds qualification in Dog Grooming backed up with years of experience grooming (and owning!) many types of dogs.
Making a booking
Places can be limited especially around Christmas, so please book early, or send a message via Facebook. We look forward to hearing from you!
Customer Feedback
These are some snippets from my customers' wonderful Facebook reviews.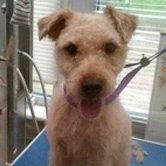 Billy
"Would highly recommend. Sue obviously loves dogs, is very knowledgeable & a nice friendly lady. Thanks Sue. "

- Christine, Nottingham
"Sue has done a fantastic job of our little man! By far the best he's been groomed ever! He was a little scaredy cat to begin with but Sue was able to calm him down and work with him to produce an amazing cut! I highly recommend. You can never stop grooming now Sue as you've got us for life."

- Callum, Nottingham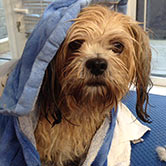 Milo
"Sue does a great job making Milo look so lovely. She's very knowledgeable and friendly, always willing to give help and advice. Would definitely recommend Sue."

- Sharon, Nottingham
"Sue is very caring and patient. Freddie our cockapoo, is not the easiest dog to groom following a bad experience as a pup, but Sue takes as much time as is needed to do a really good job and he looks and smells lovely after every visit."

- Kath, Nottingham
"You can tell when you meet Sue she's a true animal lover. She really knows what she's doing, and although Jasper isn't keen on grooming, he always looks beautiful and love his little bow on his collar which is a lovely finishing touch. Can't recommend Sue enough!"

- Patricia, Nottingham